Warehousing Service
Our strategic distribution warehousing service meet the diversified needs
We serve customers such as automotive, construction machine and industrial machine component manufacturers with our high-level of expertise.
We also offer services which match the diversified needs for VMI and 3PL operations.
Strategic distribution warehousing service | Rational WMS
Warehousing operations can be performed at a branch which is most appropriate for a customer's needs. As we issue slips using dedicated terminals (for some manufacturers), we can support warehousing operations which require complicated management.
We offer rational and consistent services from reception to shipment.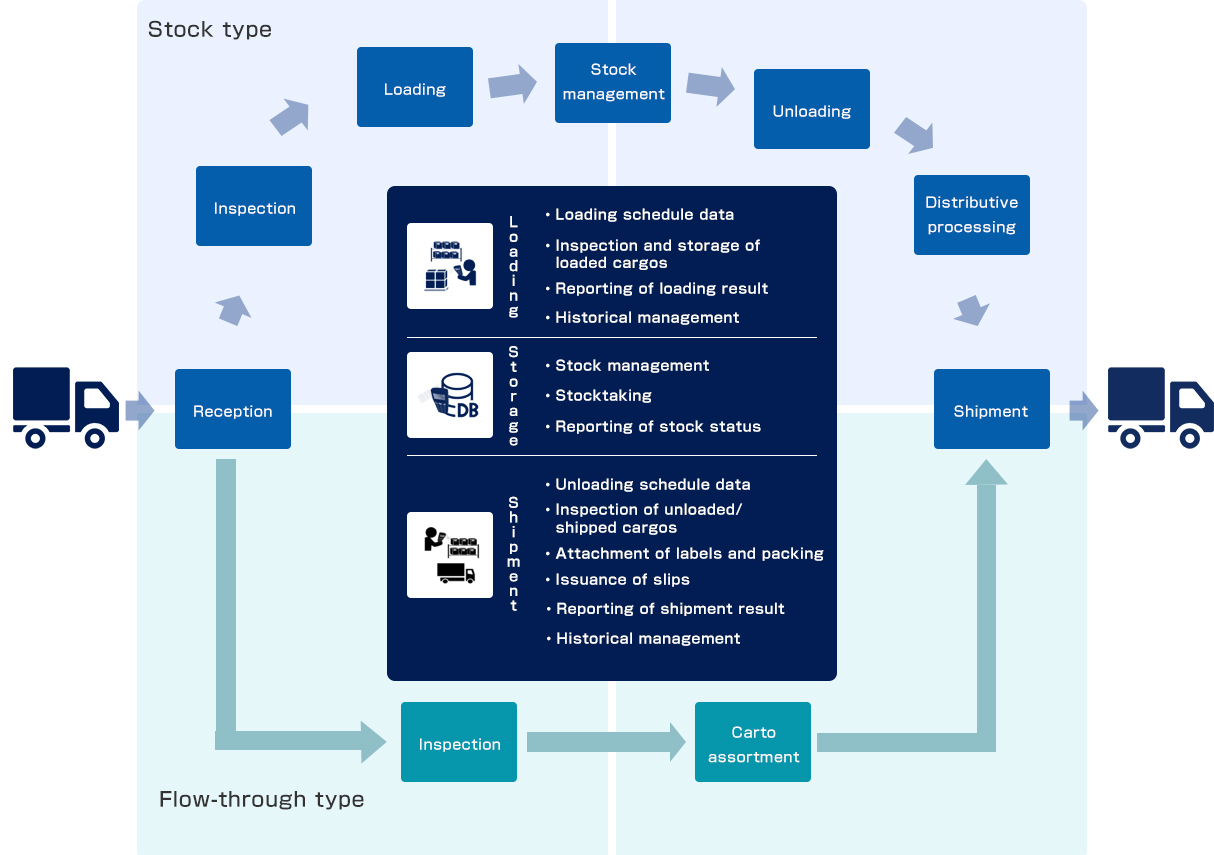 (1) Reception
We have a cargo reception system which can deal with a wide variety of cargo transported by various types of trucks, in marine containers and in JR containers, etc.
(2) Inspection
The receipt schedule data and delivery slip are compared with actual articles using a handy terminal.
The quantity of articles and abnormalities such as breakage of outer carton are checked based on the customer's quality criteria.
(3) Loading
The articles received are stored in a predetermined location.
Light-duty and heavy-duty racks are installed to secure optimum locations for various cargo volumes and packing styles (such as constant-temperature warehouse and bonded warehouse, depending on the type of articles stored).
(4) Stock management
Stocktaking is conducted periodically based on the registered daily loading/unloading result data (on daily, monthly, and term bases).
In addition, lot and first-in, first-out management is also performed.
(5) Unloading
Using the unloading instruction list dedicated for the customer and handy terminals, the articles to be unloaded are picked up from the location where they are stored.
Articles can be unloaded not only individually, but also on a case and pallet bases.
(6) Distributive processing
Depending on customers' needs, various distribution services such as issuance and attachment of dedicated labels, placing of articles in dedicated containers, packing, repackaging into smaller sizes, and inspection.
(7) Cargo assortment
The cargos to be shipped are organized according to customer, place of delivery, and takt time, following the delivery instructions.
In addition, cargos are lashed or protected according to the packing style to prevent collapsing of cargos.
(8) Shipment
A final check of cargos is performed based on the shipment date and time, and the cargos are loaded into trucks and containers from the shipment lane.
(9) Information system
Through the establishment of our unique system utilizing handy terminals and QR codes, we achieve smooth cooperation from reception to shipment of cargos.
In addition, we can also customize optimum systems for customers based on our ample assets to realize stock management with higher accuracy.